From prototyping to production, Optimas Solutions helps global manufacturers elevate their output and reduce costs across a variety of sectors.
Using specialised prototyping equipment like 3D printing and bar turning, our in-house design engineers work with customers from product development to production line to make sure their parts are optimised for use, before being manufactured at our cold forging facilities in the US and UK.
From prototyping to development and production of high-quality fasteners, here are just three steps we take:
1 – 3D Printing
Optimas' expert design engineers work to industry-specific requirements with customers on-site or on a project basis to create reliable fastening solutions.
3D printing is one method engineers use to rapidly check the design and dimensions of a fastener outside of its application. 3D printers can prototype custom parts in as fast as a day, meaning it is a highly efficient process.
3D printing also allows for step-by-step product assembly, allowing increased visibility into each aspect of the design process. Manufacturers often require specialised parts, and 3D printing allows designers to create precise, geometrically complex prototypes.
Prototypes created by 3D printing are also tangible and fully functional to accurately determine a part's application suitability, and therefore optimise its design. If that part is deemed unsuitable, a new prototype can be printed by the next day. 3D printing is also cheaper than traditional prototyping methods, as it requires very few human resources, and the very little waste that is produced can be fully recycled.
2 – Bar Turning
After optimising a product's design through 3D printing, the part can then be rapidly prototyped at a low volume through bar turning.
Bar turning provides important information about a part's mechanical properties, including its tensile strength, yield strength and ductility, to make sure it will perform well and without defects in its point of use. Not only does bar turning achieve efficient and accurate prototyping, but it comes with no tooling costs for low volume parts.
Bar turning also boasts high surface quality and precise dimensions, avoiding excess machining later on in the production process.
Our engineers are certified by IATF 16949 and ISO 9001: 2015, and use quality planning systems to effectively diagnose, correct and mitigate process or product risk throughout the production process.
3 – Cold Forging
Once a part is optimised via this rigorous testing process, they can then be manufactured at a high volume at our specialised cold-form facilities.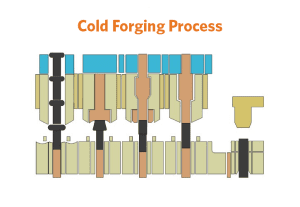 Cold-forge manufacturing produces especially durable fasteners on a large scale, and an experienced cold forming machine manufacturer can work as accurately as within 0.02mm, meaning you're guaranteed to receive specialised, high-quality parts, mapped exactly to your design.
Optimas' Barton Cold-Form facility in Droitwich UK, has partnered with manufacturers with an incredibly high product output, but with 29 Nedschroef, Sacma and Nakashimada cold-heading machines running 24 hours a day, Barton is more than well-suited to large-scale production. A single cold-forming machine can produce hundreds of thousands of pieces a day, which is much higher than other forms of manufacturing, like hot forging.
We have over 90 years' experience in meeting our customers' custom fastening requirements. Our integrated engineering and manufacturing capabilities can help you improve your product output and quality. Whether you need standard or engineered fastening solutions, our engineering and industry expertise combined with our partnership approach can optimise your product's performance.  Contact us now to maximise your production efficiency.