Founded over 90 years ago at the rear of the Barton Arms public house in Aston, Birmingham, Barton Cold-Form, Optimas' UK manufacturing division in Droitwich, has grown to become the Midlands' biggest cold-form fastener manufacturer, and one of the biggest in the UK. 
Although cold-forming is a manufacturing process that is over 150 years old, the team in Droitwich have proved its suitability to many modern engineering requirements. Working with and relied upon by countless OEMs and manufacturers throughout the UK and Europe, the team not only produce standard, engineered and licensed fasteners, but many complex and intricate parts. In recent times, these have included mechanical gear wheels (see below), components for commercial door openers and bespoke automotive fastenings produced by turning.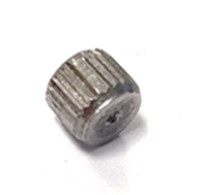 With some members holding over 30 years' experience in fastener manufacturing, the team at Barton are experts in all stages of the production process. Barton's in-house design engineers work with our partners from product development to production line, using specialised equipment like 3D printing. 
With over 50 staff, Barton Cold-Form produces an overwhelming number of quality fasteners and non-standard parts to a wide range of industries, using cutting-edge cold-forming and bar-turning machinery alongside thread-rolling, SEMS and other secondary operations to meet our partner's specific fastening requirements. 
Barton in Numbers 
29 Cold Heading Machines, That Can Run 24 Hours a Day 
Barton's state-of-the-art Nedschroef, Sacma and Nakashimada cold-heading machines compress wire-drawn, raw steel between two dies until the final part is achieved, without heat. Cold-forming maximises a part's metallurgical properties, prioritising strength and durability by ensuring its structural integrity.
 
Fasteners As Accurate as 0.02mm  
Our experienced cold-form fastener manufacturers can work as accurately as 0.02mm, or a thousandth of an inch, so parts are exactly mapped to their design. Our cold-forming machines can produce parts from 2mm to 18mm in diameter and in lengths from 6 to 175mm. 
45 Secondary Operations and Thread Rolling Machines  
From pointing to CNC Turning, our fastener manufacturers use cutting-edge machinery to produce a wide range of durable fasteners.  Additionally, they can manufacture low-quantity, high-quality parts ideal for prototyping at the design stage. 
350 Tonnes of Raw Material Held On-site, With 250 Tonnes of Raw Material Used Per Month  
Our cold-formed fasteners are made from a wide range of standard and exotic materials, from mild steel to stainless steel. Our parts can then be finished with materials like nickel, chrome, zinc flake and copper.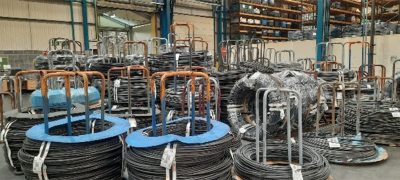 1 Million Pieces Produced Per Day  
Cold-forming is an especially efficient manufacturing process, with simple parts produced at 300 a minute, and more complex ones at up to 200 per minute.   
  250 Million Pieces Produced Per Year  
The speed of cold-forming means our fastener manufacturers can produce hundreds of millions of parts a year, allowing for an effective handling of full-scale production and high-demand periods.   
89% of Cold Forming Waste Material is Recycled, With 0% Sent to Landfill  
Optimas has ambitious sustainability targets, and our fastener manufacturing division is no exception. Before a part is manufactured, any additive waste produced by prototyping is recycled. As parts are formed in their near-net state, cold-forming is also a highly sustainable production process.  
Not only do our partners benefit from the team's impressive technical capabilities, but they're able to fulfil their onshoring and nearshoring aspirations and sustainability targets, as local sourcing significantly lessens transportation emissions.  
Sourcing from Barton also allows our UK and Europe-based partners bypass many common supply issues, like increased lead times, and unexpected customs and shipping charges.  
Our manufacturing expertise, technical heritage and engineering partnership approach is what sets us apart. Work with us to source sustainably and maximise your product quality.