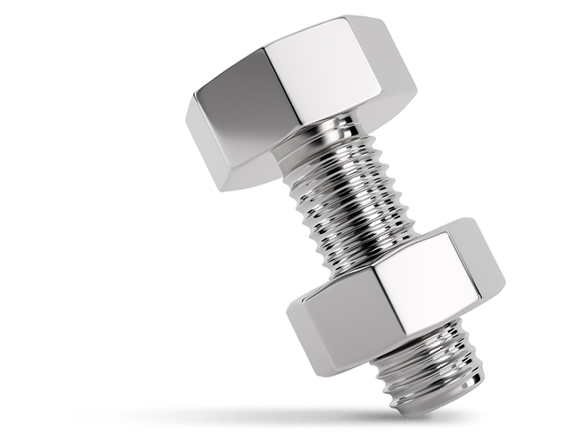 UNC, UNF and UNEF Thread Table
Optimas are a full-service supply chain and manufacturing solutions provider.   Before you design your next product or make updates to an existing product, consider partnering with Optimas to take advantage of our many capabilities.
The table below shows the types of screw threads, sizes, and specifications of Unified Coarse (UNC), Unified Fine (UNF) and Unified Extra Fine (UNEF) threads.
Thread sizes are not directly interchangeable.  For guidance only.
Thread
Major Diameter
Thread Per Inch
Pitch Diameter
Minor Diameter
Male Thread
Minor Diameter
Female Thread
1
0.0730
64
0.0629
0.0544
0.0561
2
0.0860
56
0.0744
0.0648
0.0667
3
0.0990
48
0.0855
0.0741
0.0764
4
0.1120
40
0.0958
0.0822
0.0849
5
0.1250
40
0.1088
0.0952
0.0979
6
0.1380
32
0.1177
0.1008
0.1042
8
0.1640
32
0.1437
0.1268
0.1302
10
0.1900
24
0.1629
0.1404
0.1449
12
0.2160
24
0.1889
0.1664
0.1709
1/4
0.2500
20
0.2175
0.1905
0.1959
5/16
0.3125
18
0.2764
0.2464
0.2524
3/8
0.3750
16
0.3344
0.3005
0.3073
7/16
0.4375
14
0.3911
0.3525
0.3602
1/2
0.5000
13
0.4500
0.4084
0.4167
9/16
0.5625
12
0.5084
0.4633
0.4723
5/8
0.6250
11
0.5660
0.5168
0.5266
3/4
0.7500
10
0.6850
0.6309
0.6417
7/8
0.8750
9
0.8028
0.7427
0.7547
1
1.0000
8
0.9188
0.8512
0.8647
1-1/8
1.1250
7
1.0322
0.9549
0.9704
1 1/4
1.2500
7
1.1572
1.0799
1.0954
1-3/8
1.3750
6
1.2667
1.1766
1.1946
1 1/2
1.5000
6
1.3917
1.3016
1.3196
1 3/4
1.7500
5
1.6201
1.5119
1.5335
2
2.0000
4.5
1.8557
1.7353
1.7594
2 1/4
2.2500
4.5
2.1057
1.9853
2.0094
2 1/2
2.5000
4
2.3376
2.2023
2.2294
2 3/4
2.7500
4
2.5876
2.4523
2.4794
3
3.0000
4
2.8376
2.7023
2.7294
3 1/4
3.2500
4
3.0876
2.9523
2.9794
3 1/2
3.5000
4
3.3376
3.2023
3.2294
3 3/4
3.7500
4
3.5876
3.4523
3.4794
4
4.0000
4
3.8376
3.7023
3.7294
| Thread | Major Diameter | Thread per Inch | Pitch Diameter | Minor Diameter Male Thread | Minor Diameter Female Thread |
| --- | --- | --- | --- | --- | --- |
| 0 | 0.0600 | 80 | 0.0519 | 0.0451 | 0.0465 |
| 1 | 0.0730 | 72 | 0.0640 | 0.0565 | 0.0580 |
| 2 | 0.0860 | 64 | 0.0759 | 0.0674 | 0.0691 |
| 3 | 0.0990 | 56 | 0.0874 | 0.0778 | 0.0797 |
| 4 | 0.1120 | 48 | 0.0985 | 0.0871 | 0.0894 |
| 5 | 0.1250 | 44 | 0.1102 | 0.0979 | 0.1004 |
| 6 | 0.1380 | 40 | 0.1218 | 0.1082 | 0.1109 |
| 8 | 0.1640 | 36 | 0.1460 | 0.1309 | 0.1339 |
| 10 | 0.1900 | 32 | 0.1697 | 0.1528 | 0.1562 |
| 12 | 0.2160 | 28 | 0.1928 | 0.1734 | 0.1773 |
| 1/4 | 0.2500 | 28 | 0.2268 | 0.2074 | 0.2113 |
| 5/16 | 0.3125 | 24 | 0.2854 | 0.2629 | 0.2674 |
| 3/8 | 0.3750 | 24 | 0.3479 | 0.3254 | 0.3299 |
| 7/16 | 0.4375 | 20 | 0.4050 | 0.3780 | 0.3834 |
| 1/2 | 0.5000 | 20 | 0.4675 | 0.4405 | 0.4459 |
| 9/16 | 0.5625 | 18 | 0.5264 | 0.4964 | 0.5024 |
| 5/8 | 0.6250 | 18 | 0.5889 | 0.5589 | 0.5649 |
| 3/4 | 0.7500 | 16 | 0.7094 | 0.6763 | 0.6823 |
| 7/8 | 0.8750 | 14 | 0.8286 | 0.7900 | 0.7977 |
| 1 | 1.0000 | 12 | 0.9459 | 0.9001 | 0.9098 |
| 1 1/8 | 1.1250 | 12 | 1.0709 | 1.0258 | 1.0348 |
| 1 1/4 | 1.2500 | 12 | 1.1959 | 1.1508 | 1.1598 |
| 1 3/8 | 1.3750 | 12 | 1.3209 | 1.2758 | 1.2848 |
| 1 1/2 | 1.5000 | 12 | 1.4459 | 1.4008 | 1.4098 |
| Thread | Major Diameter | Thread Per Inch | Pitch Diameter | Minor Diameter Male Thread | Minor Diameter Female Thread |
| --- | --- | --- | --- | --- | --- |
| No. 12 | 0.2160 | 32 | 0.1957 | 0.1788 | 0.1822 |
| 1/4 | 0.2500 | 32 | 0.2297 | 0.2128 | 0.2162 |
| 5/16 | 0.3125 | 32 | 0.2922 | 0.2753 | 0.2787 |
| 3/8 | 0.3750 | 32 | 0.3547 | 0.3378 | 0.3412 |
| 7/16 | 0.4375 | 28 | 0.4143 | 0.3949 | 0.3988 |
| 1/2 | 0.5000 | 28 | 0.4768 | 0.4574 | 0.4613 |
| 9/16 | 0.5625 | 24 | 0.5354 | 0.5129 | 0.5174 |
| 5/8 | 0.6250 | 24 | 0.5979 | 0.5754 | 0.5799 |
| 11/16 | 0.6875 | 24 | 0.6604 | 0.6379 | 0.6424 |
| 3/4 | 0.7500 | 20 | 0.7175 | 0.6905 | 0.6959 |
| 13/16 | 0.8125 | 20 | 0.7800 | 0.7530 | 0.7584 |
| 7/8 | 0.8750 | 20 | 0.8425 | 0.8155 | 0.8209 |
| 15/16 | 0.9375 | 20 | 0.9050 | 0.8780 | 0.8834 |
| 1 | 1.0000 | 20 | 0.9675 | 0.9405 | 0.9459 |
| 1 1/16 | 1.0625 | 18 | 1.0264 | 0.9964 | 1.0024 |
| 1 1/8 | 1.1250 | 18 | 1.0889 | 1.0589 | 1.0649 |
| 1 3/16 | 1.1875 | 18 | 1.1514 | 1.1214 | 1.1274 |
| 1 1/4 | 1.2500 | 18 | 1.2139 | 1.1839 | 1.1899 |
| 1 5/16 | 1.3125 | 18 | 1.2764 | 1.2464 | 1.2524 |
| 1 3/8 | 1.3750 | 18 | 1.3389 | 1.3089 | 1.3149 |
| 1 7/16 | 1.4375 | 18 | 1.4014 | 1.3714 | 1.3774 |
| 1 1/2 | 1.5000 | 18 | 1.4639 | 1.4339 | 1.4399 |
| 1 9/16 | 1.5625 | 18 | 1.5264 | 1.4964 | 1.5024 |
| 1 5/8 | 1.6250 | 18 | 1.5889 | 1.5589 | 1.5649 |
| 1 11/16 | 1.6875 | 18 | 1.6514 | 1.6214 | 1.6274 |