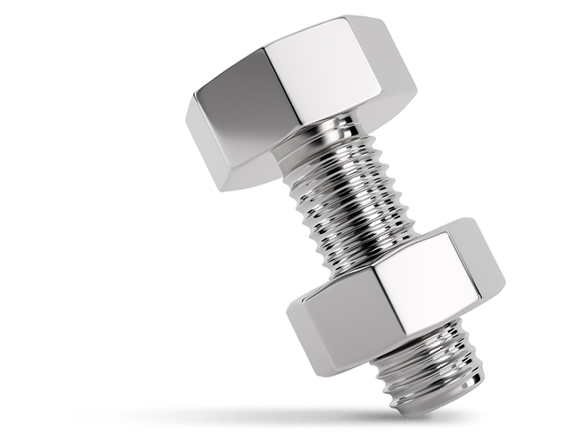 ISO Metric Screw Thread Tolerances
Optimas are a full-service supply chain and manufacturing solutions provider.   Before you design your next product or make updates to an existing product, consider partnering with Optimas to take advantage of our many capabilities.
The International Organization for Standardization (ISO) set the standard for limits of metric screw thread.  ISO 965 specifies the basic profile for ISO general purpose metric screw threads (M) conforming to ISO 261.
The information below can be used to calculate the values of thread tolerances defined by ISO 965/1.  Screw threads are usually signified by two tolerances. One is for the maximum outside diameter, measured from the major diameter of the thread, and the other is for the pitch diameter, measured from the midpoint of each tooth.
Dimensions in millimetres (mm). Tolerances 6g (6h).  For guidance only.
Thread Size
Engagement
Length From
Engagement
Length To
Major Diameter
(Max)
Major Diameter
(Min)
Pitch Diameter
(Max)
Pitch Diameter
(Min)
Thread Root
Radius (Min)
M1
0.6
1.7
1
0.933
0.838
0.785
0.031
M1.2
0.6
1.7
1.2
1.133
1.038
0.985
0.031
M1.4
0.7
2
1.4
1.325
1.205
1.149
0.038
M1.6
0.8
2.6
1.581
1.496
1.354
1.291
0.044
M1.8
0.8
2.6
1.781
1.696
1.554
1.491
0.044
M2
1
3
1.981
1.886
1.721
1.654
0.05
M2.5
1.3
3.8
2.48
2.38
2.118
2.117
0.056
M3
1.5
4.5
2.98
2.874
2.655
2.58
0.063
M3.5
1.7
5
3.479
3.354
3.089
3.004
0.075
M4
2
6
3.978
3.838
3.523
3.433
0.088
M5
2.5
7.5
4.976
4.826
4.456
4.361
0.1
M6
3
12
5.974
5.794
5.324
5.212
0.125
M7
3
3
6.974
6.794
6.324
6.212
0.125
M8
4
12
7.972
7.76
7.16
7.042
0.156
M10
5
15
9.968
9.732
8.994
8.862
0.188
M12
6
18
11.966
11.701
10.829
10.679
0.219
M14
8
24
13.962
13.682
12.663
12.503
0.25
M16
8
24
15.962
15.682
14.663
14.503
0.25
M18
10
30
17.958
17.623
16.334
16.164
0.313
M20
10
30
19.958
19.623
18.334
18.164
0.313
M22
10
30
21.958
21.623
20.334
20.164
0.313
M24
12
36
23.952
23.577
22.003
21.803
0.375
M27
12
36
26.952
26.577
25.003
24.803
0.375
M30
15
45
29.947
29.522
27.674
27.462
0.438
M33
15
45
32.947
32.522
30.674
30.462
0.438
M36
18
53
35.94
35.465
33.342
33.118
0.5
M39
18
53
38.94
38.465
36.342
36.118
0.5
Thread Size
Engagement
Length From
Engagement
Length To
Major Diameter
(Max)
Major Diameter
(Min)
Pitch Diameter
(Max)
Pitch Diameter
(Min)
Thread Root
Radius (Min)
M8x1
3
9
7.794
7.794
7.324
7.212
0.125
M10x1
3
9
9.974
9.794
9.324
9212
0.156
M10x1.25
4
12
9.972
9.76
9.16
9.042
0.156
M12x1.25
4.5
13
11.972
11.76
11.16
11.028
0.156
M12x1.5
5.6
16
11.968
11.732
10.994
10.854
0.156
M14x1,5
5.6
16
13.968
13.732
12.994
12.854
0.188
M16x1.5
5.6
16
15.968
15.732
14.994
14.854
0.188
M18x1.5
5.6
16
17.968
17.732
16.994
16.854
0.188
M18x2
8
24
17.952
17.682
16.663
0.188
0.188
M20x1.5
5.6
16
19.968
19.732
18.994
18.854
0.188
M20x2
8
24
19.962
19.682
18.663
18.503
0.188
M22x1.5
5.6
16
21.968
21.732
20.994
20.854
0.188
M22x2
8
24
21.962
21.682
20.663
20.503
0.188
M24x2
8.5
25
23.962
23.682
22.663
22.493
0.25
M27x2
8.5
25
26.962
26.682
25.663
25.493
0.25
M30x2
8.5
25
29.962
29.682
28.663
28.493
0.25
M33x2
8.5
25
32.962
32.682
31.663
31.493
0.25
M36x3
12
36
35.952
35.577
34.003
33.803
0.375
M39x3
12
36
38.952
38.577
37.003
36.803
0.375