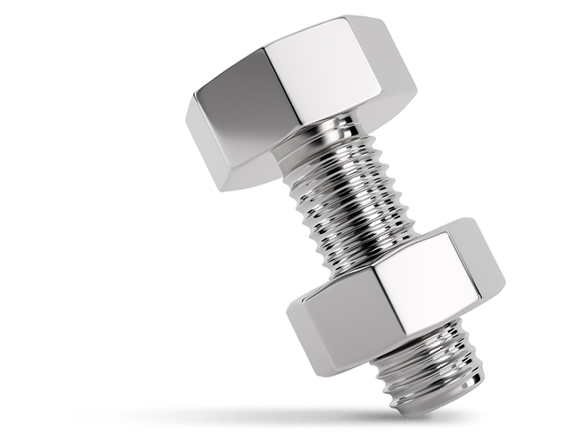 Pre-Load and Tightening Torques of Metric Thread Steel Fasteners
Optimas are a full-service supply chain and manufacturing solutions provider.   Before you design your next product or make updates to an existing product, consider partnering with Optimas to take advantage of our many capabilities.
This table shows the maximum permissible tightening torques and the resulting maximum preload for coarse and fine pitch thread steel fasteners.
Thread
Coeffecient Friction
Maximum Pre-load F M max (N)
Maximum Tightening Torque MA max (Ncm)
Conversion Factor X
Property Class to ISO898/1
Property Class to ISO898/1
3.6
4.6
5.6 / 4.8
5.8
8.8
10.9
12.9
3.6
4.6
5.6 / 4.8
5.8
8.8
10.9
12.9
M1.6
0.100
185
200
250
333
575
810
970
4.5
5
6.5
8.5
15
21
25
0.026
0.125
175
190
240
310
544
770
920
5
5.5
7.5
9.5
17
24
29
0.031
0.140
165
180
230
300
530
746
895
6.5
6
8
10
18
25
30
0.034
M1.8
0.100
220
230
295
380
680
995
1150
5.5
6
8
10
18.5
26
32
0.027
0.125
205
220
280
360
645
905
1090
6.5
7
9.5
11.5
21
30
36
0.033
0.140
200
215
275
350
625
880
1050
7
7.5
10
12.5
13
32
38
0.036
M2.0
0.100
310
335
420
540
960
1350
1620
9.5
10.5
13.5
17
31
44
52
0.032
0.125
295
320
400
520
910
1280
1530
11.5
12
15.5
19
35
50
60
0.039
0.140
285
305
385
500
880
1240
1490
12
13
16.5
21.5
38
53
64
0.043
M2.5
0.100
515
560
700
910
1600
2250
2700
20
21
28
36
63
89
107
0.04
0.125
490
530
665
860
1520
2140
2560
23
25
32
39
73
102
123
0.048
0.140
475
510
645
830
1470
2070
2480
25
27
34
43
78
109
131
0.053
M3.0
0.100
790
855
1070
1390
2440
3430
4120
35
38
49
63
111
157
188
0.046
0.125
770
815
1020
1320
2320
3270
3920
42
44
56
72
128
180
215
0.055
0.140
730
785
985
1280
2250
3170
3800
44
47
60
78
137
192
230
0.061
M3.5
0.100
1050
1140
1430
1850
3270
4600
5520
54
59
75
96
171
240
290
0.052
0.125
1000
1080
1360
1760
3120
4380
5260
63
68
86
110
196
275
330
0.063
0.140
970
1050
1320
1710
3020
4250
5100
67
73
92
119
210
295
395
0.07
M4.0
0.100
1370
1480
1850
2400
4230
5960
7140
83
88
112
144
255
360
430
0.06
0.125
1300
1400
1760
2280
4020
5660
6790
94
102
128
166
290
410
495
0.073
0.140
1260
1360
1710
2220
3900
5480
6580
100
108
137
177
310
440
525
0.08
M5.0
0.100
2250
2410
3020
3920
6910
9720
11650
160
170
220
280
500
705
845
0.072
0.125
2140
2300
2880
3740
6580
9260
11100
180
200
250
320
575
810
970
0.087
0.140
2000
2230
2790
3620
6380
8980
10800
190
210
270
340
615
865
1040
0.096
M6
0.100
3200
3400
4270
5550
9760
13700
16450
2.8
3
3.8
4.8
8.6
12
14.5
0.00087
0.125
3050
3240
4060
5270
9290
13050
15650
3.2
3.4
4.3
5.6
9.9
14
16.5
0.00106
0.140
2960
1350
3940
5120
9010
12650
15200
3.5
3.7
4.6
6
10.5
15
18
0.00117
M8
0.100
5877
6260
7830
10170
17900
25200
30200
6.8
7.2
9.1
11.7
21
29
35
0.00115
0.125
5590
5960
7460
9690
17050
24000
28800
7.9
8.3
10.5
13.6
24
34
40
0.0014
0.140
5420
5780
7230
9390
16550
23200
27900
8.4
8.9
11
14.5
26
36
43
0.00145
M10
0.100
9350
9960
12450
16180
28500
40100
48100
13.5
14.4
18
23.4
42
58
70
0.00175
0.125
8900
9480
11850
15400
27100
38200
45800
15.5
16.6
21
27
48
67
81
0.00195
0.140
8640
9200
11500
14900
26300
37000
44400
17
18
22
29
51
72
87
0.00175
M12
0.100
13600
14520
18150
23500
41500
58400
70000
24
25
31
41
72
101
121
0.0021
0.125
13000
13840
17300
22400
39600
55600
66800
27
29
36
47
83
117
140
0.0023
0.140
12600
13400
16800
21800
38400
54000
64800
29
31
39
50
89
125
150
0.002
M14
0.100
18700
19900
24900
32300
57000
80100
96200
37
40
50
47
114
160
193
0.0024
0.125
17800
19000
23800
30900
54300
76400
91700
43
46
58
74
132
185
220
0.0027
0.140
17300
18400
23100
3000
52700
74100
89000
46
50
62
81
141
198
240
0.0022
M16
0.100
25700
27400
34300
44500
78300
110000
132000
57
60
76
98
174
245
295
0.0027
0.125
24500
26100
32700
42500
74700
105000
126000
66
70
88
115
200
285
340
0.003
0.140
23800
25300
31700
41200
72600
102000
122500
71
76
95
124
215
305
365
0.0025
M18
0.100
31300
33300
41700
54200
95300
134000
161000
79
83
105
135
240
340
405
0.003
0.125
29800
31700
39700
51600
90900
128000
153500
91
95
121
155
275
390
470
0.0034
0.140
28900
30800
38600
50100
88200
88200
149000
97
105
130
171
295
420
500
0.0028
M20
0.100
40200
42800
53500
69500
122500
172000
206000
111
120
148
195
340
475
570
0.0033
0.125
38300
40800
5110
66400
117000
164000
197000
128
135
170
219
390
550
660
0.0037
0.140
37200
39600
49600
66400
113500
159000
1915000
138
146
184
238
420
590
710
0.0033
M22
0.100
50100
53400
66800
86800
153000
215000
258000
149
160
199
260
455
640
765
0.0036
0.125
47900
51000
63800
82900
146000
205000
246000
173
183
230
298
530
745
890
0.004
0.140
46500
49600
62000
80600
142000
199500
239500
186
198
250
322
570
800
960
0.0033
M24
0.100
57800
61600
77100
100200
176000
248000
297000
191
203
255
330
580
820
980
0.004
0.125
55200
58800
73600
95680
168000
236000
284000
220
235
295
382
675
950
1140
0.0044
0.140
53600
57100
71400
92800
163500
230000
276500
235
251
315
408
725
1020
1220
0.0037
M27
0.100
76000
81200
101500
131900
323000
326000
391000
280
300
375
488
855
1210
1450
0.0045
0.125
72600
77400
96800
125800
221000
311000
374000
325
348
435
566
995
1400
1680
0.005
0.140
70600
75200
94100
122300
215000
302000
363000
350
376
470
610
1070
1510
1810
0.0041
M30
0.100
92500
98800
123500
160500
282000
396000
475000
380
405
510
658
1160
1640
1970
0.005
0.125
88300
9400
117500
162700
269000
378000
454000
445
470
590
763
1350
1900
2280
0.0055
0.140
85700
91600
114500
148800
261000
367000
441000
475
504
635
818
1450
2050
2450
0.0045
M33
0.100
115000
122800
153500
199500
351000
949000
592000
515
552
690
898
1570
2210
2650
0.0055
0.125
110000
117200
146500
190400
335000
472000
566000
600
645
800
1045
1830
2580
3090
0.006
0.140
107000
114000
142500
185200
326000
458000
550000
645
685
865
1110
1970
2770
3330
0.0049
M36
0.100
135000
144000
180000
234000
412000
579000
695000
665
705
885
1145
2030
2850
3420
0.006
0.125
129000
137600
172000
223600
394000
553000
664000
775
825
1030
1340
2360
3310
3980
0.0066
0.140
125500
134000
167500
217700
382000
538000
645000
830
885
1111
1435
2530
3560
4280
0.0053
M39
0.100
162500
173500
217000
282100
495000
696000
835000
860
920
1150
1495
2620
3680
4420
0.0053
0.125
155000
165600
207000
269100
473000
665000
798000
1000
1075
1340
1750
3050
4290
5150
0.0065
0.140
151000
160800
201000
261300
460000
646000
776000
1080
1155
1440
1880
3290
4620
5550
0.0072
Thread
Coefficient Friction
Preload (N)
Tightening Torque (Nm)
Property class to ISO 898/1 
Property Class 
8.8
10.9
12.9
8.8
10.9
12.9
M8 x 1
0.100
19500
27500
33000
22
30
36
0.125
18600
26200
31500
25
35
42
0.140
18100
25500
30600
27
38
45
M10 x 1.25
0.100
30500
42900
51500
42
59
71
0.125
29110
40900
49100
49
68
82
0.140
28300
39800
47700
52
73
88
M12 x 1.25
0.100
46600
65500
78500
76
105
130
0.125
44600
62500
75000
88
125
150
0.140
43300
6100
7300
95
135
160
M14 x 1.5
0.100
63000
88500
106000
120
165
200
0.125
60500
85000
102000
140
195
235
0.140
58500
82500
99000
150
210
250
M16 x 1.5
0.100
85000
120000
144000
180
250
300
0.125
81500
114000
137000
210
295
350
0.140
79000
111000
133000
225
315
380
M18 x 1.5
0.100
111000
156000
187000
260
365
435
0.125
106000
149000
179000
305
425
510
0.140
103000
145000
174000
325
460
550
M20 x 1.5
0.100
140000
197000
236000
360
360
510
0.125
134000
189000
226000
425
600
720
0.140
130000
183000
220000
460
640
770
M22 x 1.5
0.100
172000
242000
291000
480
680
810
0.125
165000
234000
279000
570
800
960
0.140
161000
226000
271000
610
860
1050
M24 x 2
0.100
197000
277000
332000
610
860
1050
0.125
188000
265000
318000
720
1000
1200
0.140
183000
257000
30900
780
1100
1300